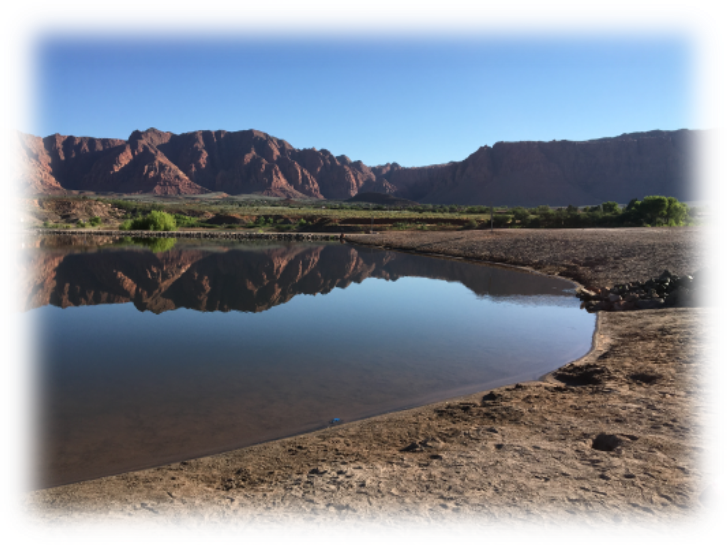 History
Ivins Reservoir was completed in 1918. It is an off stream reservoir with a holding capacity of 500 acre feet of water used for irrigation and recreation. It was modified in 1943 and again in 1986. In 1994, work was performed on the reservoir to bring it into compliance with the State of Utah's safety standards. Cores were drilled all around the dam down to the bedrock. Concrete was then poured to reinforce the dam so it would not break.
Ivins Reservoir has been owned by the Washington County Water Conservancy District since March 15, 2004. In return for the reservoir, the Santa Clara Field Canal Company now has primary water.
(Information courtesy of the Washington County Water Conservancy District.)
Ivins Reservoir has been used for irrigation water and as a recreation area for about 96 years. I imagine that in the early years, the reservoir was just a place to swim and cool off in the summer, but in more recent years, it has been a place where people could water ski, and fish.
In 2008, Ivins City, Ivins Irrigation Co., The Washington County Water Conservancy District, The Shivwits Band of Paiute Indians of Utah and Kayenta Development began meeting to look at ways to improve the recreation potential of Ivins Reservoir. At that time, a preliminary plan of amenities was put together that seemed to meet the approval of all members of the group. The downturn in the economy took everyone's focus away from this project for a few years, but now discussions have resumed and the group has completed a plan that will make Ivins Reservoir, not only a place for locals to come and recreate, but a regional recreational site that will provide a variety of recreational opportunities. Now at Fire Lake Park, there are clean, permanent bathrooms, showers, foot wash stations, drinking fountain, picnic tables, a pergola and 2 large grassy fields.
Fire Lake Park at Ivins Reservoir Rules
Entrance to park is off of Highway 91 (turn off is on your right when heading north towards Gunlock)
Park is open dawn to dusk daily
No overnight parking/camping
Once parking lot is full, park is closed to new visitors (no parking allowed on hwy)
No reservations; all amenities are available on a first come, first serve basis
No dogs allowed
No amplified sound allowed
No motorized vehicles allowed (only kayaks, paddles boards etc)
No smoking, drugs or alcohol allowed
No fire allowed (no bonfire, charcoal briquettes or propane allowed)
Bathrooms are open when the park is open
Throw away all trash in the dumpster or take with you when you leave
If you leave the park after the gate has closed, gate will open and let you out when you pull up close to it
If you have an emergency while at the park, call the police at dispatch number 435-634-5730 or 911